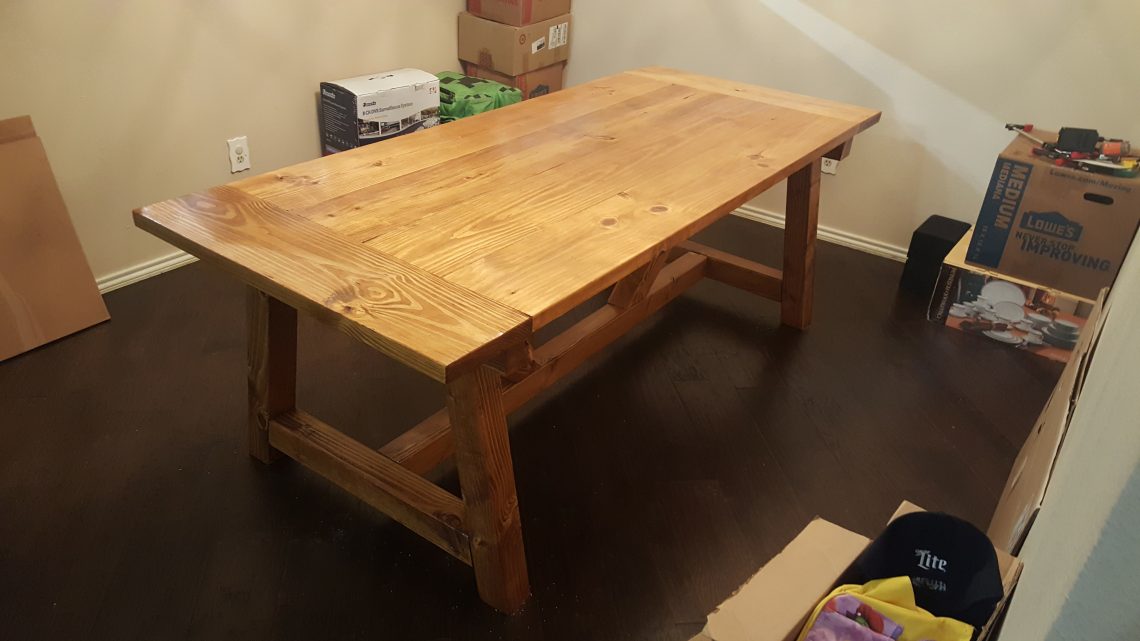 Farmhouse table
After moving into our new house, we really needed a table for our dining room. My wife and I really like farmhouse tables, but didn't want to pay out the nose for one. While searching for some ideas, I found Ana White's website. More importantly I found this post: http://www.ana-white.com/2013/09/plans/4×4-truss-beam-table
After getting the approval from the wife and some motivation, I started on the project. We were going to have a farmhouse table of our own. I didn't want to build the whole table with pocket screws as the plans on her site would have you do. I decided to loosely follow the plans, and use some traditional joinery as well.
Trusses
First up in the build was to form the trusses at the end of the base. The trusses are made entirely from 4″x4″ pine boards from Lowes. I followed the sizing from the plans for what would be visible. However my cuts were longer to facilitate the pinned mortise and tenon joints I was using. To pin the joints I used a dowel rod, that I can't remember the diameter of.
Base of the Table
After the trusses were made I needed to complete the rest of the base. These are held in with pinned mortise and tenon joints as well. The base used more 4″x4″ pine and a couple of 2″x4″ boards.
Tabletop
The tabletop is made from 2″x10″ boards and has bread board ends. The tabletop was constructed with pocket screws. I wish I would of made it with mortise and tenon joints as well. The boards over time have cracked, and I believe that is due to them not being able to contract and expand with the weather. The top is only held in with screws, so I can replace it at another date if I so choose.
Finishing the build
After staining and applying several coats of polyurethane to the table. I finally moved it in to the house. The base is thankfully separate from the top as it would be so heavy. Also it wouldn't fit through the doors in the house.
Finally finished
Our farmhouse table took about a week to build. I ended up making some benches to match, however I was in a rush to make them so I didn't use the same joinery techniques. They were built with pocket screws and have held up for the last two years. The kids approve of their new table. 😉